Facility Management Services
Facility Management Services relates arrangement for professional maintenance and upkeep of the property. People normally sense the quality of their life from their surroundings, the environment in which they live and the facilitates infrastructure. Facility Management Services include Housekeeping Services, Pantry Services, Support Staff Services, Pest Control Services, Carpet & Sofa Shampoo Services, Floor Polishing Services, Gardening Services, Façade Cleaning Services, Security Services, Electro-mechanical Services, HVAC (operation & maintenance) & Plumbing Services and many more which helps to keep the premises neat & clean, healthy & secure at all the times.This is called "Total Facility Management Solutions"
Now a day's requirement to outsource the Facility Management Services has taken vast place to manage the building maintenance as per hygienic standard.
In today's scenario Facility Management Services is deficit requirement of all the organizations. Our expert team will maintain the Facility Management Services in a professional way.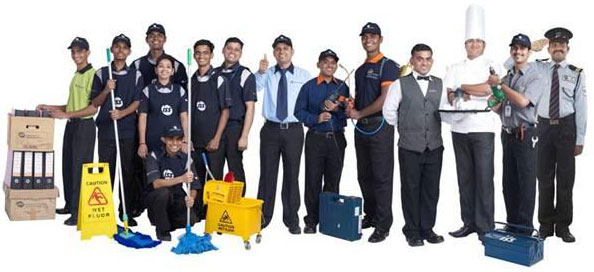 House Keeping & Facilities Management Services
Competence of House Keeping Staff
Housekeeping Supervisors
Capacity to choose, train and induct a person.

Knowledge about basic machines & equipment with SOP's.

Knowledge about using resources.

Knowledge about resolving problems, rather carrying them to Management.

Control over a scientific inventory, based upon day-to-day usage.

Control over the manpower to combat the biggest problem of absenteeism.

Control on quality of services his/her company is supposed to give within the cost.

Control on his/her P.R. capabilities to generate maximum mileage from the efforts he is putting for company.

Control on expenses incurred.

Complete knowledge about housekeeping industry.

Communication skills with subordinates, management and client.

Knowledge of various productivity rates- Indian & International.

Basic knowledge of all the surfaces he/she is going to handle.

On hand information about Specialized jobs to be done at a particular site.

To be able to respond to minimum level of reporting regarding jobs done or not, and if not then specifying the reason.

Control over the manpower to bring them to site well groomed.

To be able to report and get resolved the various maintenance problems, which affect the Housekeeping Operations.

To be Ears, Eyes and Nose to Management and Client both about various teething problems in running a very effective professional Housekeeping Operation.

To have that fire within to grow in life.

To attain a positive attitude in life to be a factor responsible in the growth of everyone associated.
Housekeeping Staff
How to increase eye for detail

Light on longevity of service

To enhance discipline, loyalty and honesty

Why to improve self grooming

Knowledge on various surfaces. Right nomenclature.

Sweeping/ vacuum sweeping of floors.

Twin bucket wet mopping.

Single bucket wet moping.

Dry moping.

Controlling incoming dust.

How to clean toilets/ washrooms.

Glass cleaning.

Polishing of metal surfaces.

Dusting of surfaces / table tops.

Vacuuming of carpets.

Skimming of carpets.

Wet cleaning of carpet

Wet cleaning of upholstery.

Scrubbing of floors manually / with machines.

Polishing of floors.

Honing of floors.

Crystallization of floors.

How to use sweeping machines.

How to use jet pressure washers.

How to work with better productivity rates.